When your customers open their inboxes in the mornings are they inundated with emails from your company? Sales emails, promotional emails, loyalty program emails, abandoned cart emails and the all important transactional emails. It's a lot for a customer to take in and impossible for them to consume.
Think you're immune? When retailers like Nicole Miller and J.C. Penney decide to cut back on spamming their customers (and yes, spamming is what they were doing to their customers) it may be time for you to look at your email engagement rates and pull back on the reins.
Most marketers behave as though there's a direct correlation with the number of times you contact a customer and the rate at which they actually buy from you. Hey, email is cheaper than producing a direct mail piece or catalog, right? Not so much, especially when you factor in customer attrition due to your over-eager email program and the costs of acquiring a customer to fill the customer seat you just helped vacate.
Here's what my inbox looks like. 20 emails in as many weeks from Angie's List. All I did was start the membership signup process.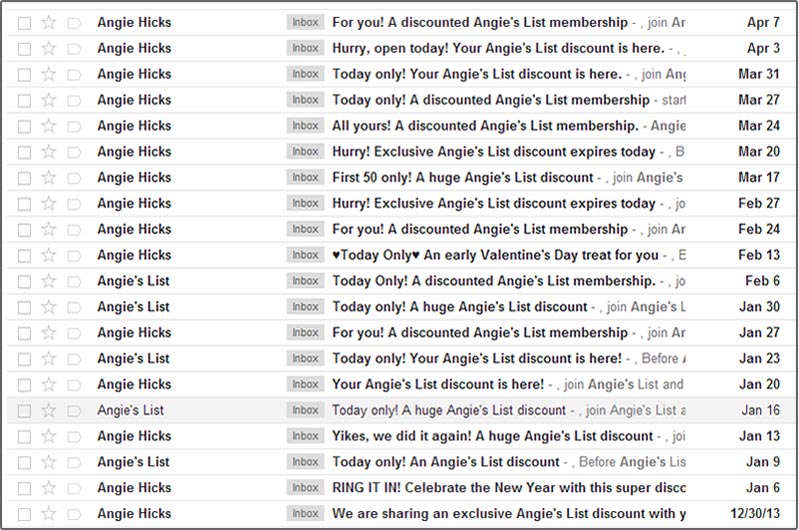 That's a lot of emails. If a customer hasn't converted after 4 months of weekly emails, you definitely need to rethink your strategy.
The inbox overload businesses create is enough to turn a valued current customer into a former customer. All it takes is one click of the dreaded "mark as spam" button for the customer to completely disengage and to cause you all kinds of issues trying to keep your customer lists clean, not to mention you now have to acquire a new customer to replace the one you just chased off.
Here's the question you really should be asking yourself before you set up another email "blast" to your entire customer list is, "Is this really helping my customers? Have they told me this information is valuable to them?" if the answer is "no" or "I don't know", you need to seriously rethink hitting the send button.
Instead of demanding more of your customer's share of attention treat the attention you do get like a Willy Wonka Golden Ticket; rare, precious, delicate and to be treated with extreme care. Take the time to personalize your email content, segment your lists based on established behavioral patterns, customer preference and incentives your customers have TOLD you they want (a 2013 study from Experian shows emails with personalization deliver 26% higher unique open rates). Put systems in place to allow customers to determine what information they want from you and how often they want it and make them very easy to use.
If you see your engagement drop, unsubscribe rates climb and abuse rates creep up into a dangerous rage, it's time to rethink your email strategy.
Sometimes less [email] really is more.